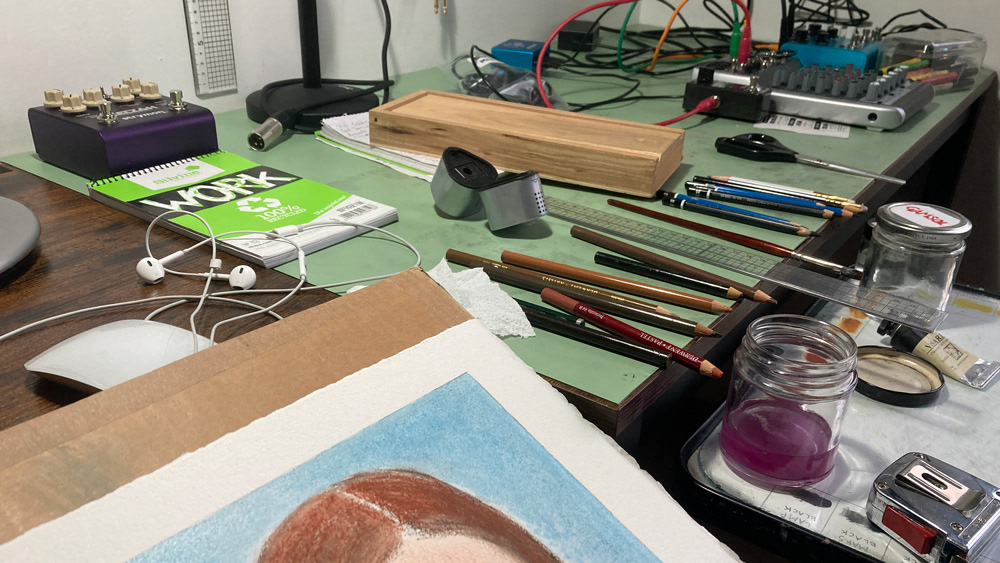 Erlend Tait is a Visual Artist from the North of Scotland. In 1996 he received his BA Hons. in Fine Art from Gray's School Of Art where he specialised in Drawing & Painting. After g
raduating he move
d to Edinburgh to work in one of Scotland's leading stained glass studios and learn the ancient techniques of the glass painter-stainer. Now both traditions of oil painting and stained glass inform his artistic practice, combining portraits of imagined people with pattern and symbolism.
Erlend exhibits his drawings, pa
intings an
d stained glass internationally and lives on the Black Isle with his wife, the artist Pamela Tait with whom he also collaborates and exhibits.
In 2020 he was elected a Professional Member of the Society of Scottish Artists.
2022                'Aetherness' - Outré Gallery, Melbourne, Australia
2020                'Of Land And Sea' - Outré Gallery, Melbourne, Australia
2019                'Imaginary Friends' - FB69 Gallery Münster, Germany
2016                'Path Of Most Resistance' - FB69 Gallery Cologne, Germany
JOINT EXHIBITIONS WITH PAMELA TAIT
2022                'A Portrait Of Mairi Sawyer' - The Sawyer Gallery, Inverewe Gardens
2022                'Hidden Harmonies' - The Biscuit Factory, Newcastle
2019                'Refractor' The Meffan Gallery, Forfar
2018                'Roots' - St Fergus Gallery, Wick
2017                'Tales From The North' - An Tobar, Mull
2014                'Forgotten Land' - FB69 Gallery Cologne, Germany
2013                'Pamela & Erlend Tait' - Browns Gallery, Tain
2013                'Duologue' - Glasgow Institute Kelly Gallery, Glasgow
SELECTED GROUP EXHIBITIONS
2023                'Don't Wake Daddy XVIII' - Feinkunst Krüger, Hamburg, Germany
2023                'P.S 8' - Nucleus Portland, Oregon, USA
2023                'Vanguard' - Outré Gallery, Melbourne, Australia
2023                'Small Works' - Beinart Gallery, Melbourne, Australia
20
23                'Popland 3' - KochxBos Gallery, Amsterdam, Netherlands
20
23                'Supersonic Faces & Figures' - SupersonicArt.com
2023                'Layer By Layer' - FADZ, Lichtenfels, Germany
2023                'Renewal' - wowxwow.com
2022                'Power In Numbers 7' - Nucleus Portland, Oregon, USA
2022                'Inaugural G

roup Exhibition' - Bro

wns Gallery, Inverness
2022                'Die Vögel/The Birds' - Feinkunst Krüger, Hamburg, Germany
2021                'Don't Wake Daddy XVI' - Feinkunst Krüger, Hamburg, Germany
2021                'Power In Numbers 6' - Nucleus Portland, Oregon, USA
2021                'Now You See Me, Now You Don't' - Orangerie, Munich, Germany
2021                'Vanguard' - Outré Gallery, Melbourne, Australia
2021                'A Space Between' - (moving image) Society of Scottish Artists
2021                'Contemporary Figures' - Society of Scottish Artists
2021                'Walpurgis' - Dog & Pony Gallery, Munich, Germany
2021                'Ritual Deluxe' - wowxwow.com
2020                'Don't Wake Daddy XV' - Feinkunst Krüger, Hamburg, Germany
2020                '#SeeHerPlay' - FB69 Gallery, Münster, Germany
2020                'Spring Exhibition' - The Biscuit Factory, Newcastle
2019                'Don't Wake Daddy XIV' - Feinkunst Krüger, Hamburg, Germany
2019                'Utopia – What's Yours?' - Society of Scottish Artists
2019                'Vanguard' - Outré Gallery, Melbourne, Australia
2018                'Don't Wake Daddy XIII' - Feinkunst Krüger, Hamburg, Germany
2018                'Found' - An Tobar, Isle of Mull
2018                'Winter Exhibition' - Compass Gallery, Glasgow
2018                'Twenty-five And Counting' - 25th Anniversary, Brown's Gallery, Tain
2017                'Look Up To The Sky And See' - FBB69 Gallery, Münster, Germany
2017                'Winter Show' - Compass Gallery, Glasgow
2017                'Room Of A Thousand Doors' - wowxwow.com
2017                'Lightning Bolts & Little Sparks' - wowxwow.com
2017                'A Change Of Seasons' - Compass Gallery, Glasgow
2017                'London Art Fair' - with Compass Gallery
2016                'Popsurrealism' - FB69 Cologne, Germany
2016                'Winter Collection' - Compass Gallery
2015                'Twenty-One And Counting' - Brown's Gallery, Tain
2015                London Art Fair - with Compass Gallery
2014                'Cabinet Show: Small Treasures' - Compass Gallery, Glasgow
2014                'Spring Exhibition' - Tolquhon Gallery, Aberdeenshire
2014                'Crows Are Following Us' - FB69 Gallery, Münster, Germany
2011                'Feminality Couples' - The Hive Gallery, Los Angeles, CA, USA
2011                'Apartness' - Recoat Gallery, Glasgow
2009                'Winter Show' - Kilmorack Gallery, Inverness-shire
2009                'Fabric of the Land' - University of Aberdeen
2007                'Reflections from the Well' - An Tobar 10th Anniversary, Mull
2007                'Drawing' - Mansfield Park Gallery, Glasgow
2007-09, 2013-14, 2018                  Royal Scottish Academy
2007-08, 2010-12, 2016                  Royal Glasgow Institute           
2011-15, 2018                                     Royal Scottish Society of Painters in Watercolour
2007-12, 2014-15                              Aberdeen Artists Society
2010-11, 2018-20                              Society of Scottish Artists
2011, 2016, 2019, 2020                     Visual Arts Scotland
2011-12                                                Paisley Art Institute
2009, 2011                                           Scottish Drawing Competition, Paisley Museum & Art Gallery
2006-07                                               The Aspect Prize, Paisley Museum & Art Gallery
2008                                                     Royal Society of Portrait Painters, London
2006                                                     Lynn Painter-Stainers Prize, London